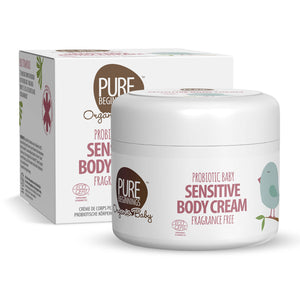 BABY SENSITIVE BODY CREAM - PURE BEGINNINGS
The Pure Beginnings Probiotic Baby Sensitive Body Cream (250ml) is a certified organic, soothing, moisturising cream for the most sensitive and delicate of skins. Free from all fragrances and enriched with probiotics, prebiotics and natural plant oils, this is the perfect skin-hydrating product to protect and nourish the microbiome of new-born babies or anyone with ultra-reactive skin.
DIRECTIONS FOR USE
Gently apply and massage all over skin after bath or when required. For additional glide when massaging baby or for very dry skin, add a few pumps of the Baby Massage & Bath Oil to the cream and use in combination. Use under adult supervision.